●

DOC-Gram Newsletter

New Directions in Crime Prevention Through Environmental Design (CPTED), Design Out Crime and cyber-CPTED
Hello,
Welcome to Doc-Gram!  With great information on Crime Prevention through Environmental Design (CPTED) and Designing Out Crime plus cyber-CPTED (CPTED + cyber-security).
Highlights:
1. BikeLinc - great initiative by CrimeStoppers fro locating stolen bikes. Register Now!
2. Certified Online CPTED Training for Planners, Architects, Developers and Associated Professionals starting 2 July.
3. Domestic violence increases and police report less. Why?
4. Fleece-ware Why is it so dangerous? How can you protect yourself?
5. What is cyber-CPTED? How do you get trained?

6. Free CPTED and COVID-19  online training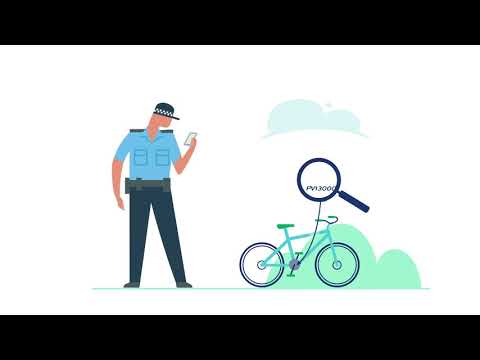 Register your bike on Bikelinc!
Most stole bikes are eventually taken to the Police and for a while stored at Police stations all over Western Australia. It's a problem! There are thousands of them!
In most cases, bikes end up at a Police station in a different area to where they were lost.
With CrimeStoppers BikeLinc you can now arrange to get your own bike back.
CrimeStoppers has set up Bikelinc!

Register your bike's serial number and details and your address with BikeLinc and if the Police find your bike they will let you know where to pick it up.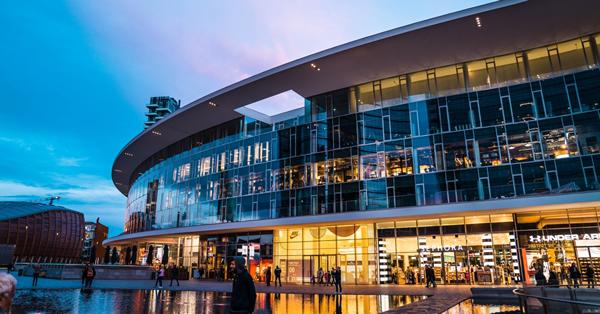 Times:  10-12 am (GMT +8) for 6 weeks starting Thursday 2 July 2020
Includes: Live online CPTED training, PDF handbook, practical exercises, personalised CPTED Certificate, access to video recordings.
CPTED Training Provider: Design Out Crime and CPTED Centre
Cost:  $495 inc GST  

    Register now!

CPTED is increasingly required for Planning and Development Applications

Who is this program intended for?
Urban Planners

Architects

Developers

Building managers
Please forward to the appropriate persons.

 

What is learned?
CPTED in:

   -- new build

   -- refurbishment

   -- redesign to address crime

   -- building maintenance

   -- building life-cycle considerations

14 CPTED design tools

CPTED and massing design

Using CPTED site and building audits

Geographic juxtaposition and planning and design

CPTED for developers

Crime Risk Assessments

CPTED in designing the built environment for COVID-19 and similar pandemics

Benefits of targeted CPTED

CPTED to design industrial and commercial buildings to minimise theft and vandalism

Effective use of CCTV in CPTED

Lighting and CPTED

Designing the built environment to reduce anti-social behaviour

Designing built environments to reduce fear of crime

Practical real world CPTED individual exercise (desktop and/or site)
More information and to register 
https://www.designoutcrime.org/index.php/cpted-training/cpted-for-planners-architects-developers-2jul


Domestic violence increases during COVID-19 yet police report less incidents. Why?
At the start of COVID-19  domestic violence support agencies reported a rise in calls. In the UK,calls to DV agencies increased 700% and weekly domestic violence deaths doubled.
Now in Australia during COVID-19, Police report much lower than normal  domestic violence incidents and domestic violence support agencies report very reduced call volumes.

Why?
During COVID-19 domestic violence victims can no longer safely contact police and support agencies when their abuser is out of the house or at work .
It suggests the need in Australia for more new safe domestic violence protection pathways  - such as the safe room in Boots pharmacies in the UK (https://uksaysnomore.org/safespaces/) or the use of the Mask-19 safeword in French pharmacies and stores.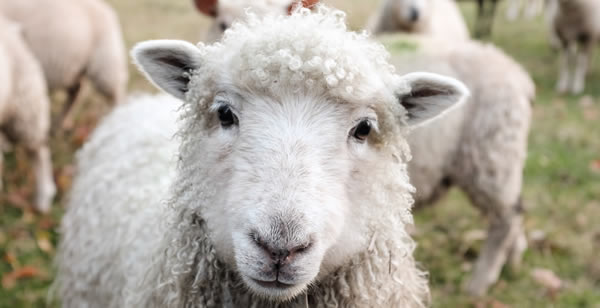 Fleece-ware is a new kind of cyber-scam:  partly digital - partly physical.
It works by having YOU agree to pay outrageous amounts for things you are buying online.
Fleece-ware is different from cyber-crime because much of fleece-ware is absolutely legal.
 

How does fleece-ware work?
It uses buyers' carelessness, trust and lack of attention to arrange they will legally agree to pay more than they thought.
Tom Merritt in Tech Republic points out it does whatever is needed,
"to fool you into agreeing to high charges without realizing it until it's too late. For instance, it will give you a free trial with a subscription price of $9 a week, hoping you don't notice that it was a week, not a month. Or, they may charge you $200 a month hoping you'll read it as $2.00."


The fleece-ware security problem
Malware protection may be in place, firewalls secure, software up to date - all the usual cyber-security. None of these are a problem for fleece-ware.
Conventional malware protection does not block fleece-ware.
For fleece-ware it is the buyer that is the weak link - the vulnerability
Many software companies have tested buyers' lack of attention in their terms of trading - some humorously.
For example, GameStation apparently included the clause that buyers would be required,
"…to grant Us a non-transferable option to claim, for now and for ever more, your immortal soul. Should We wish to exercise this option, you agree to surrender your immortal soul, and any claim you may have on it, within 5 (five) working days of receiving written notification from gamestation.co.uk or one of its duly authorized minions."
(Note: Only 12% of purchasers ticked the clause to "nullify soul transfer". However, GameStation has graciously relinquished their rights to the other souls.)
Amazon apparently also once had a clause in their terms that negated a section in their agreement as follows,
"However, this restriction will not apply in the event of the occurrence (certified by the United States Centers for Disease Control or successor body) of a widespread viral infection transmitted via bites or contact with bodily fluids that causes human corpses to reanimate and seek to consume living human flesh, blood, brain or nerve tissue and is likely to result in the fall of organized civilization."
Protection against fleece-ware
The most obvious protection is you as the buyer  increasing their attention and read what you are agreeing to. Hard work maybe, but well worth your while. Other protections include:
Cancel as soon as you have discovered a problem.

Cancel any subscriptions for the product

Use PayPal or a similar service that offers protection against potentially misleading product advertising.

Use consumer protection advice and laws against misleading contracts.

Buy from market places that offer indemnity against misleading transactions, or at least a cooling off period that gives buyers chance to discover the problem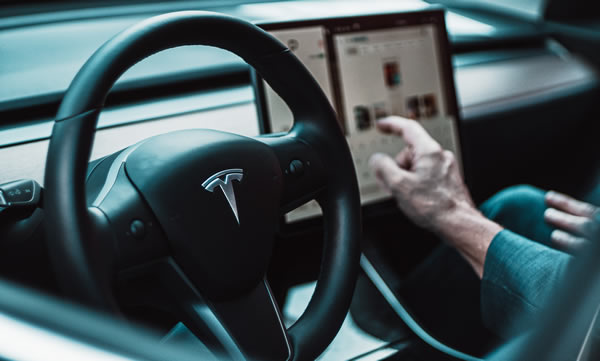 New! Cyber-CPTED - what is it? How to get training?

Many new kinds of crimes such as fleece-ware occur at the overlap of the physical and digital  worlds.
It requires a completely new kind of protection that spans between physical  CPTED and digital cyber-security - which neither alone do well.
I have called this new area of crime prevention -

cyber-CPTED
3 years ago, at the Design Out Crime and CPTED Centre, we started building a new body of cyber-CPTED crime prevention methods for this new digital-physical crime including Smart-Cities and Smart-Homes.
It started with  addressing security issues of ultra high-value micro-businesses that operate in part in the digital world.
This revealed security and crime prevention in the digital-physical realm must combine CPTED, security and cyber-security approaches in ways that go beyond each. 
In cyber-CPTED situations

traditional methods of CPTED do not work
For example, traditional natural surveillance is problematic in the cyber-CPTED realm. Do you really want everyone naturally being able to see all the files in your computer...?
Similarly, many cyber-security approaches are also useless in a digital-physical realm
More detailed and practical cyber-CPTED information is due to be published very soon.
In the meantime, if you are a business, local government or other organisation who would like training in cyber-CPTED, please contact us.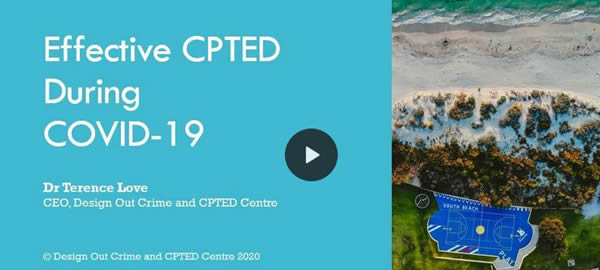 This 1 hour CPTED training focuses on:

Changes in crime dynamics  and social activities during COVID-19

Reasons why effective CPTED needs to be done differently during COVID-19

Expected changes and displacements of crime across location, time and crime type

Effective CPTED methods and priorities during COVID-19
CPTED Training and CPTED reviews and advice
For conventional CPTED training, CPTED reviews for development applications or CPTED advice, please see our training programs at www.designoutcrime.org or contact us directly.