The new Introduction to CPTED online course is available at https://cybercpted.org
Special start of course offer  - 50% off! Register on this Introduction to CPTED course for only $24.95! until 31 July (normal price $49.95). Tell your friends and colleagues!
This is a foundation CPTED certificate course for community safety staff, rangers, new security staff, small business managers, and planning and architecture professionals. It will give you and your staff a practical grounding in CPTED principles to reduce crime.
The course is intended  for self-study  and contains all necessary materials.
There are 10 lessons each with an activity (a part of a real world CPTED project)  and assessment using multi-choice questions. Each lesson covers a key aspect of CPTED. The course supports learning by mistakes (you can redo the questions) and working at your own pace.
The course contains online resources and also pointers to additional resources for those students who want to dig deeper, make some advanced preparation for the Intermediate CPTED and Advanced CPTED Practitioner courses, or become more expert.
The payment for the course is by credit card via PayPal.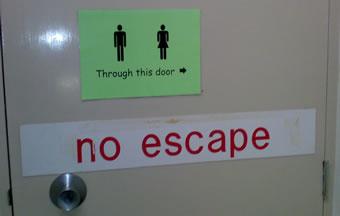 Applying CPTED to the design of public toilet facilities can be straightforward or offer serious challenges!
When public toilets are designed after everything else, CPTED aspects of the design can become difficult. The simple most obvious CPTED principles can also cause problems rather than benefits - there is a need to think!
You are here:  

CPTED articles